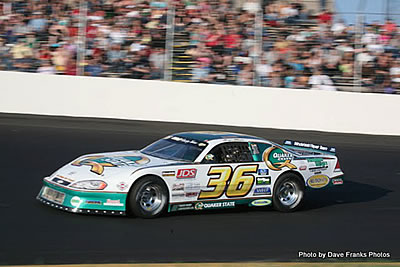 New Sunset Speedway
Racing With OSCAAR Super Late Models
May 23rd
Race #2

Flamboro Speedway was rained out Saturday night giving way for us try out the new Sunset Speedway, a track that underwent a thorough rebuilding including a new race surface, pit lane, paved pits and improved grandstands.
Sunset runs a Limited Late Model class, but our Quaker State Impala is much more powerful, and can't run with that class. However the Super Late Models, from OSCAAR, were running the track on Sunday and invited all Late Model drivers to join them at the Speedway, we were the only team to take them up on their off, though outclassed we had fun.
Late Models are 400 HP, compared to 600 HP in the OSCAAR. Other notable differences included their cars being 150 pounds lighter, and a left side of 60% compared to our 56%. In spite of the handicap we ran respectable coming home in one piece. This was only an exhibition race for our team. Nineteen cars started, the idea was to stay at the back and race as hard as we could, staying out of trouble. We finished 6th in both heats and 12th in the 50 lap feature event with no marks to the car. We received a lot of press from the announcer for our sponsors, in front of a very big crowd

Grand Stands Were Packed …Photo By Dan Craik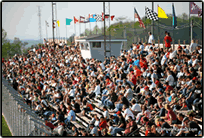 This Saturday we run the first of three Grisdale Triple Crown races. These 75 lap races will attract some very good competition. Last year we finished 3rd in the mini series, but came very close to winning it being only one point out of the lead going into the final leg. Consistency is what we'll need to win the Grisdale Triple Crown and we're ready for the challenge. More pictures below from Sunset Speedway.
Sunday's Pre Race Introduction… Photo By Dan Craik