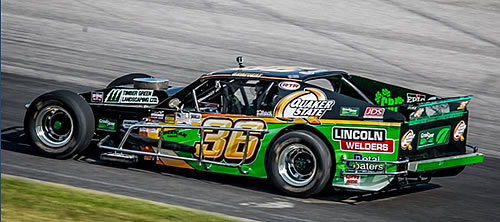 July 21, 2017 - Race #11

On Friday July 21st our team headed to Kawartha Speedway to race with the Modifieds.  Kawartha is a beautiful track inside a horse track.   The smooth oval usually draws great crowds and lots of cars.   Today was no exception.  There were 28 Modifieds to compete on the big hast half mile oval.   This was an awesome turn out for our 5th OSCAAR Mod race of 2017.
My crew was very effective all night.  We discussed handling issues and made changes to get the car better each time out. We finished 8th of 9 cars in our first heat, but made significant progress finishing 4th in the second, putting us 10th on the starting grid.
We had a great race, working our way through traffic, battling side by side with some aggressive drivers, but they all raced hard and clean
Crew and driver pumped after taking 6th in this tough group of racers.