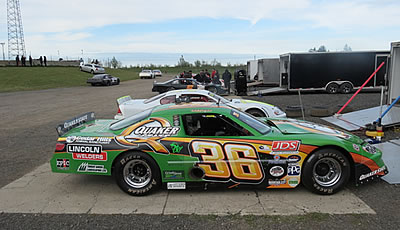 May 20, 2017 - Race #1

Gary Elliott Motorsports started season #49 at Flamboro Speedway on Saturday May 20th.   A field of seventeen Pro Late Models provided excitement and drama for the fans, including a wild crash with 2 laps to go.
Our team ran well at the beginning of the race. However a spongy brake pedal made racing hard very difficult.  The aggressive field was no match for us on this night, though we were unable to race hard with the brake issue.
We got to the track early and set up just inside the pits giving us a spot that is easy for our fans, sponsors and friends to find us on race day.
We started 10th in the first feature.  Our car felt very good, perhaps the fastest it's been in a few years.  Our goal is to run with the pack, but I noticed right away our brake pedal was travelling too far and wasn't hard, but spongy.   It wasn't air in the brake system; we bled the brakes a few times.  We also replaced the calipers, and installed new master cylinders.   It was frustrating that I couldn't drive hard into the turns because the brake issue allowed the car to travel too far.  That forced me to brake sooner and produced much slower lap times
At about the half way mark I heard a clunk through the floor.  I stayed out, but backed out of the action.  A few laps later the 2nd and 3rd place cars tangled. It seemed like harmless contact initially, but resulted in two very badly beat up race cars.  The drivers were okay, they have a lot to do to fix their cars
The good news is that both drivers were okay, discouraged, but not hurt.
After the race we put the car on jack stands to find out why we had no brakes and what caused the clunk in the middle of the race.   Here is what we found. The right rear rotor was cracked and broke the caliper bracket.
My crew worked hard to get the car back out.   We borrowed a rotor and got back out on the track but the rains came forcing this race to be postponed till June 3rd.