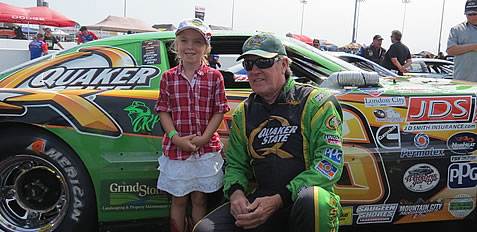 August 26/27, 2017 - Race #17

This big weekend has been on the radar for years. We heard the old track was sold and new owners were rebuilding the once majestic Cayuga Speedway.
After investing millions, the final product will be one of the nicest race facilities in Canada, and they're not done yet with more improvements planned for 2018.
This once famous speedway attracted many NASCAR stars including Dale Earnhardt, Bill Elliott, Rusty Wallace, Mark Martin, Bobby Allison, Tony Stewart, Matt Kenseth to name a few.  This new facility is a top notch venue for racing. Future events will bring the best drivers from Canada and the United States.
It was a two day event with excellent weather and the biggest Ontario Pro Late Model field in years.  Forty cars showed up for the APC Rankin Construction Twin 75 feature.  After qualifying there were 38 cars remaining and all started.
Pre Race Fan Appreciation
Prior to the start of the race we met the fans and gave out autograph cards, and there were lots of them, over 7,000 plus the pits were full with 70 cars.
We started near the back of both races.   We ran very well in the first moving from 35th to 20th but falling back to 32nd when we ran out of fuel.     In the second 75 lap feature, we started 33rd and stayed on the lead lap running strong but having carburetor issues that hurt us.  We finished 25th and not a mark on the car.
It was a great day for us, for the track, fans and promoters.  Thanks to Jukasa Motor Speedway the APC series and Rankin Construction.
Special thanks to my crew, David, Louie, Lloyd, Don, John, Rob and Tyler for all their hard work this weekend.  It was tiring but a fun thrilling day.